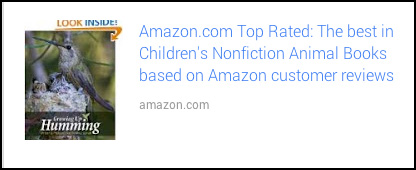 My book, Growing Up Humming, is now the #1 Top Rated book in the Children's Nonfiction Animal category on Amazon. Thank you, everyone who helped it get there.
Some of you might wonder what this means, and might wonder about some of the details. Here's what I know:
First, this has nothing to do with sales. #1 Top Rated doesn't mean #1 Bestselling. The sales of Growing Up Humming are just a trickle, so far. It means that – by whatever unspecified algorithm Amazon uses, seemingly factoring in both the average rating (which goes from 1-5 stars, 5 being highest), and the number of people who have rated the book – my book has come out at the top in its category, based upon readers' ratings.

Second, you might wonder, "#1 out of how many?" As of the time of writing this, that's out of 44,677 books in the Children's Nonfiction Animal Book category on Amazon, as you can see here.
Third, you might wonder, "Are Growing Up Humming's book ratings honest?" After all, it's quite common for authors to try to stack their book's ratings with biased reviews from friends and family. Furthermore, the New York Times had an article about authors and publishers gaming Amazon's rating system by paying for reviews. To the best of my knowledge, all of the reviews my book has garnered are honest. Many of the reviews are by my request (I've contacted a number of popular reviewers, asking them to review my book), but I always let them know I'm not asking for a biased, positive review, and I'm fine with them calling it like they see it, positive or negative. You can see for yourself that many of the reviews are from comparatively credible sources. 30 of my book's reviews are from the top ranked reviewers on Amazon, such as this 5 star review by the #1 top ranked Amazon reviewer. Likewise, 5 of my book's reviews are from the top ranked reviewers on Goodreads, such as this 5 star rating by the 9th highest ranked reviewer on Goodreads. I also have reviews by respected independent reviewing organizations, such as this 5 star review by Kindle Book Review. And I have a 5 star review from a top professional in my field.
How long will my book remain the #1 Top Rated in its category on Amazon? It's been almost a week since I found out. I expect it won't last much longer. All such things on Amazon get updated hourly. The competition is tough (Roald Dahl, Temple Grandin, and T.S. Eliot are neck and neck with me in the top 10), and the winds of change are especially fickle when it comes to people's tastes.
I'll enjoy it while it lasts – but most of all, I'll thank you, Dear Readers, who made it so.
Edited to add: It turned out my book stayed #1 for 6 months straight, while the number of books in the category grew to just under 50,000. After 6 months straight, it was automatically removed from the list.